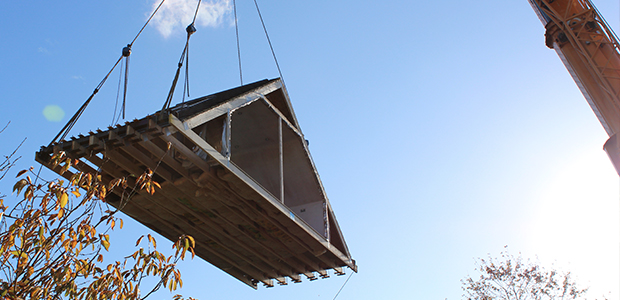 A Unique Loft Conversion Solution
Moduloft offers homeowners today a loft conversion solution that allows them to stay in their property and have little disruption while we build their loft in our factory. Our unique approach to roof raise lift and install means homeowners go on a journey to ensure they get the extended space quickly and with little disruption to the property at time of install.
Attic Conversions Unique to Moduloft
We identified a need for a modular loft conversion solution, so for properties when the roof is too low we developed a unique solution. Our offsite approach to build is one that is borne out of 20 years' experience and to now be designing, developing and building bespoke solutions for property owners is a focus for the business today. Each project is unique, and we understand that for every homeowner we work with it is about listening and together we identify the right solution for them. If you love your current home but need extra space then our loft conversion solution could be perfect for you and your family.
From start to finish our aim is to make it easy for homeowners, and while we focus on the build in the factory they can be planning how they will personalise their new rooms when we come along and install.
We think of everything and even include fixtures and fittings, electrical sockets, radiators, bathroom and kitchen. So all you need to do is finish your floor and add a lick of paint to the walls.
There are so many reasons why choosing Moduloft could be right for you: