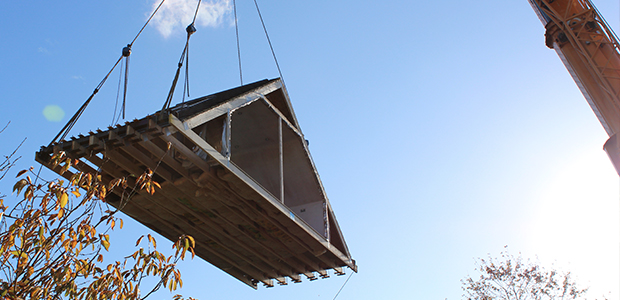 If you are looking for a loft conversion in Manchester and want a unique solution to what can often be a major upheaval then a Moduloft loft conversion is the ideal solution. Simple to achieve in many modern family homes that require the extra free space, bedroom or living area. With many years experience Moduloft have developed an streamlined and unique approach to loft conversion that takes the stress and upheaval away from your perfect loft conversion.
With a housing market effectively at stand still a significant number of people are seeing properties remaining unsold for a considerable length of time with no viewings. Needing additional space for a growing family or relative is a high priority. Many homes do not have the benefit of extended gardens on which to create extensions. Yet many do have the benefit of having the capacity to build upwards into the roof and the additional space needed. This is an extremely intelligent option in which to create the wanted space whilst for the most part adding between 10 – 15% onto the estimated value of your home.
Loft Conversions Manchester
Many house loft areas can be adapted quickly and easily with the unique Moduloft loft conversions system. Then all you have to worry about are the  choices of how to use the additional space, which are numerous. The Moduloft loft conversion system allows even very low roofs to be converted without major work or mess. Some of the the greater benefits been that the loft modules are built off site to a tried and tested template. Moduloft have developed this system over 30 years in the building trade. This keeps the onsite work, stress and mess to you to a minimum.
So if you are needing more room for the growing younger ones in the house, an area to use as your second office which is becoming progressively popular, as a greater proportion of us are working from home. Or you just require a quite place to enable you to close the door on the hustle of daily day life and be able to relax. 
You may even have a very large roof space and just want to develop a percentage of the loft into liveable space whilst holding the other half as storage space. Or have a separated loft conversion with ensuite you might want to change over into an addition for a reliant relative, visitors etc. the choice is yours.
Attic Conversion Manchester
Many attic conversions do not require legal authorisation arranging or planning permission. If it is the case then Moduloft can help and manage each case on an individual basis, we will inform you as to the options on our home visit. All our Manchester attic conversion will come complete with a Building Regulations Certificate and Part P Electrical Certificate so you can be guaranteed the work that has been done conforms to the most recent regulations. 
Moduloft will guide you carefully through the unique loft conversion of your attic space and explain the ease with which it can be done quickly and effectively.  Moduloft are often able to convert a loft space sometimes up to eight times faster than a standard attic conversion. We also drastically reduce the upheaval of traditional loft conversions by many weeks and months.
If you would like to learn further about this unique way of acquiring greater room in your building please give Moduloft a call or visit our Free Easy Quote page to help us start you on your ideal loft conversion.