Highstone HA modular bungalows
Highstone Housing Association Limited is family run business based in Sheffield, South Yorkshire specialising in supported living accommodation for vulnerable adults in partnership with local authorities from across Yorkshire. They source the buildings or land in suitable locations within Local Authority areas, which they develop to create individual homes built to a preferred specification. With 30 years' experience building quality homes, our standards are high and this is reflected in each home designed and built by us and up to 2021 all done using traditional methods of construction.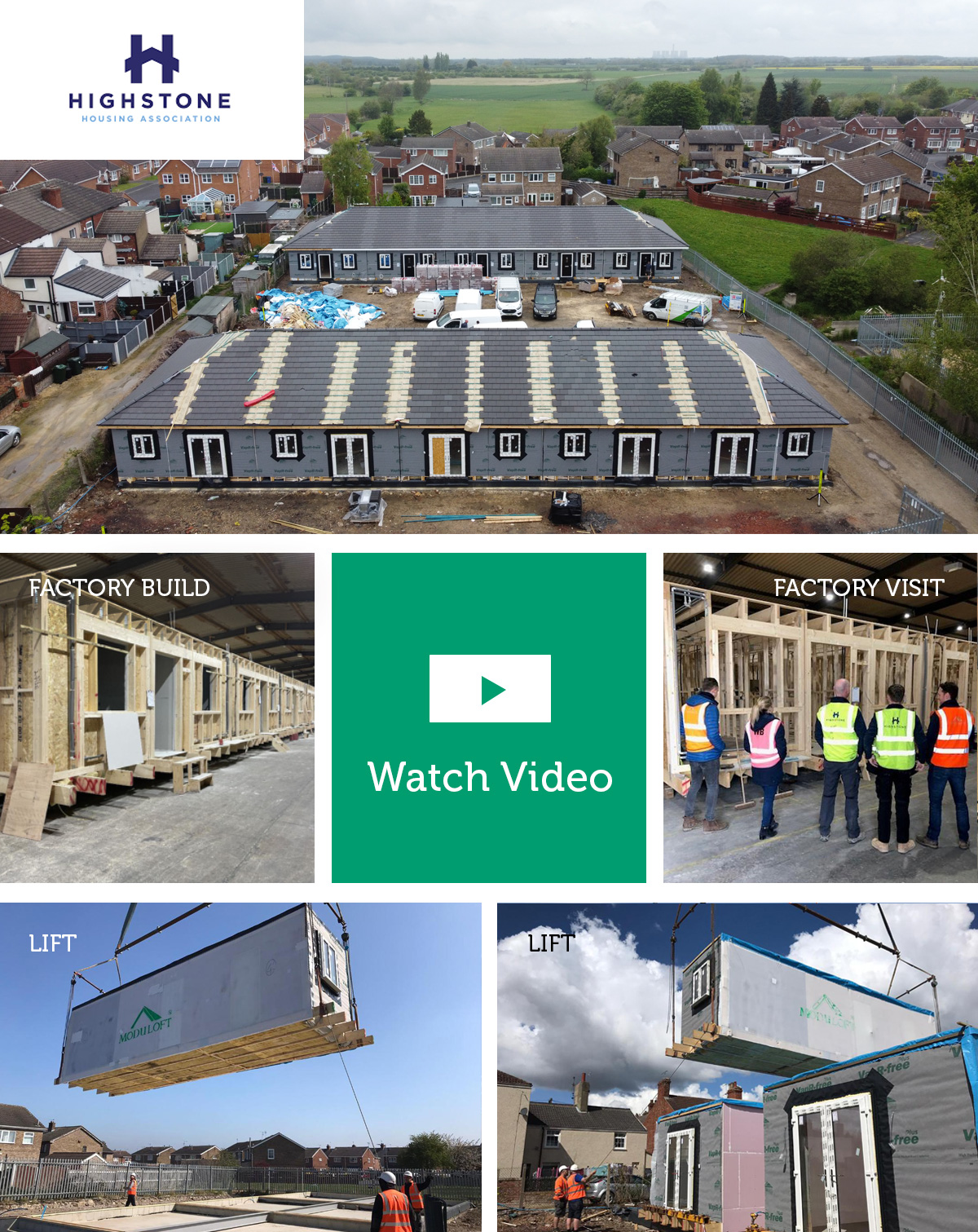 Our key challenge has been to identify a project that would mark our trial of modern methods of construction through offsite manufacturing. We found Moduloft in 2020 and this project to produce our 2 terraced bungalow rows in Doncaster using the expertise of Moduloft and establishing our insight into how efficient and time saving using modular build could be for us.
The bungalows have been developed to offer accommodation for over 55's. The site is in a small town called Askern located to the North of Doncaster. The area offers all local amenities and is sustainably located on bus routes to Doncaster town Centre and the wider area. Our first impression of Moduloft and the impressive factory and team was during our first tour to discuss the potential for our project and underpin their success to date with commercial projects. We were very impressed with the whole set-up and felt Moduloft were the right partners for us.
So build commenced with regular visits to see progress and ensure our site was ready for delivery of the bungalows in April. The project scope to build 2 rows of 5 terraced bungalows comprising of 2 bedrooms, kitchen, opening living space and bathroom each dwelling 60 square metres.
Moduloft co-ordinate and manage all aspects of the project, having a key team in control every step of the way delivers consistency and control. The wagons delivered 10 modules and 10 roof sections on plot 1 and 10 modules and 10 roof sections on plot 2 so a total of 40 modules to complete the bespoke build.
"We are absolutely thrilled with the project and Moduloft, our vision is to now progress and do more offsite construction in the future and with the award winning team at Moduloft. Their skills and expertise is outstanding."
Gareth Lloyd
Hightstone HA