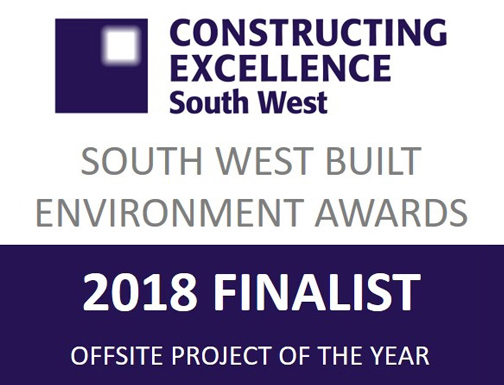 We are thrilled to announce that two of our projects have automatically been put forward for the Constructing Excellence South West awards in the Best Offsite category. As a result we are now finalists for the 'Offsite Project of the Year'.
Both projects have individual merits and demonstrate how Moduloft have not only transformed the properties quickly, but with a design and build solution that has added value and stature to both properties. From the speed of build in our factory to the outstanding teamwork that goes into delivering all aspects of the project from design, build, delivery, lift and install; it's this dedication that means we can truly meet our customers' expectations every time.
CHIPPENHAM
Our Chippenham bungalow gained four bedrooms and three bathrooms in just nine weeks. The modules themselves were lifted in just one day and the install team had completed their onsite works over the following two!. A stunning gallery landing and staircase finished off the installation and a new master bedroom rear balcony overlooking the beautiful garden were the crowning elements that made this transformation such a success. This project won the Build It Live 'Best Roofing System' – a stunning renovation and we are thrilled it's being recognised again.
DEVON
This stunning period property by the river in idyllic Devon was looking to add space by building upwards. Our solution? A raised roof and new space comprising of 2 bedrooms and a bathroom. The window design and external finish has remained true to the design of the original build but has truly enhanced the overall appearance of this statement property with some locals saying it's now best looking house in Paignton!
This regional award ceremony is a key event in the construction calendar and celebrates the very best building innovation in the South West.
Moduloft are delighted to be recognised again for our achievement in Offsite. We are so proud of our unique approach; helping property owners gain bespoke space quickly and to a very high standard. The Chippenham and Devon projects both demonstrate the skill and attention to detail that goes into creating tailored designs which meet and often exceed the customers' expectations.
The Moduloft team work hard to deliver on every project and approach every brief with a passion to produce innovative and ground-breaking transformations. It's wonderful to be recognised and be finalists in these regional awards.