Moduloft Raising Roof In Huddersfield
Our customer in Huddersfield, West Yorkshire decided in 2020 to look at ways to extend their existing living space to create an additional 2 bedrooms with ensuite. Any project on the home takes time to plan and research, hear they share their story on how they arrived at Moduloft and what a difference it has made to their family life.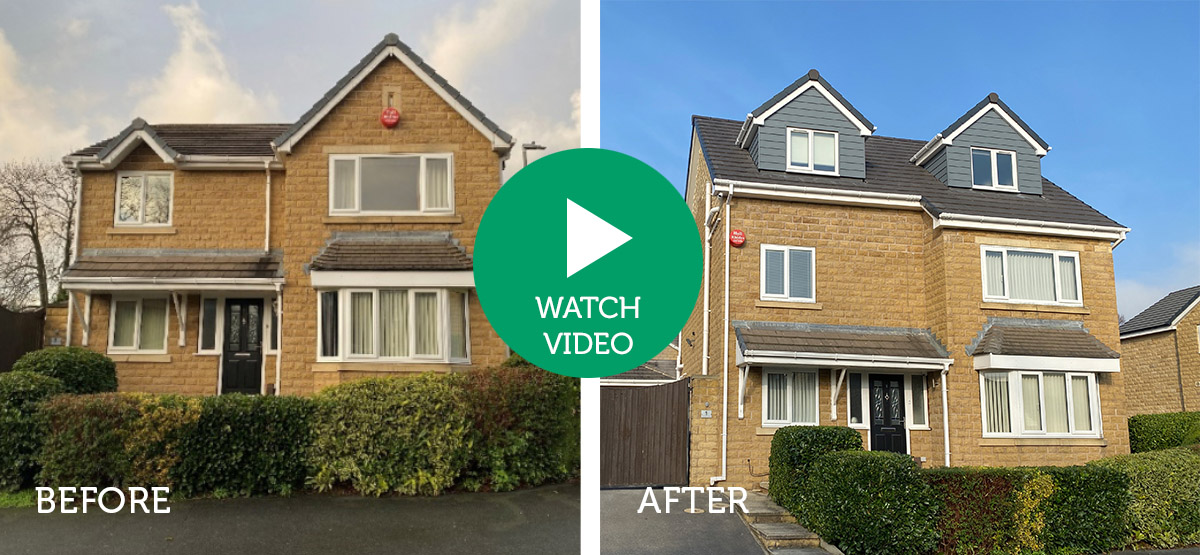 Q1 – How did you find out about Moduloft?
I found the company on the internet and thought what a great idea. I then invested the time to research the business, the projects it had completed and speak to Moduloft to see if they could meet the requirements of our project. Throughout the process Moduloft were professional and courteous. They also introduced me to some of their existing clients; usually a great sign that they believe in the product and service they offer.
Q2 – Did you think you would consider modular build or did you think it would be conventional build?
I didn't consider going modular at all. However, when we thought about the amount of time it would take, the damage it would cause, the inconvenience and the potential for hidden costs of a "traditional" build, going with Moduloft suddenly made a lot of sense, giving us speed of build and speed of install.
Q3 – Did you visit the Moduloft factory to view your project in progress?
This was another key reason to go with Moduloft. We were able to visit the factory, see the new structure being built before our eyes and live the space; we visited multiple times and this was no problem at all for Moduloft. By seeing the space, we could also make minor layout modifications and speed up the end-to-end build cycle by making decisions early on to things like switch/socket locations, how many lights we would need, where we would position furniture, TVs, etc.
Finally, the rooms were going to be bedrooms and we wanted fitted wardrobes. With a traditional build, wardrobe design and measuring comes right at the end of the project once everything is built which extends out end-to-end completion time by weeks if not months. The modular nature of this build with walls, doors, ceilings, sockets in place and plastered meant we could design, measure and order the wardrobes in advance while the structure was off site at Moduloft – they were fitted within a week of completion of the build, a time saving of several weeks.
Q4 – How much space have you gained in your new space and what impact has that made on you and the family?
We've gained a completely new storey with two excellent sized rooms and en-suites. Our home is now spacious and fit for a large family. No more clothes, books, toys crammed in undersized wardrobes or spread across the floor, no more fighting for bathroom time, everything has its place and there's plenty of room to grow.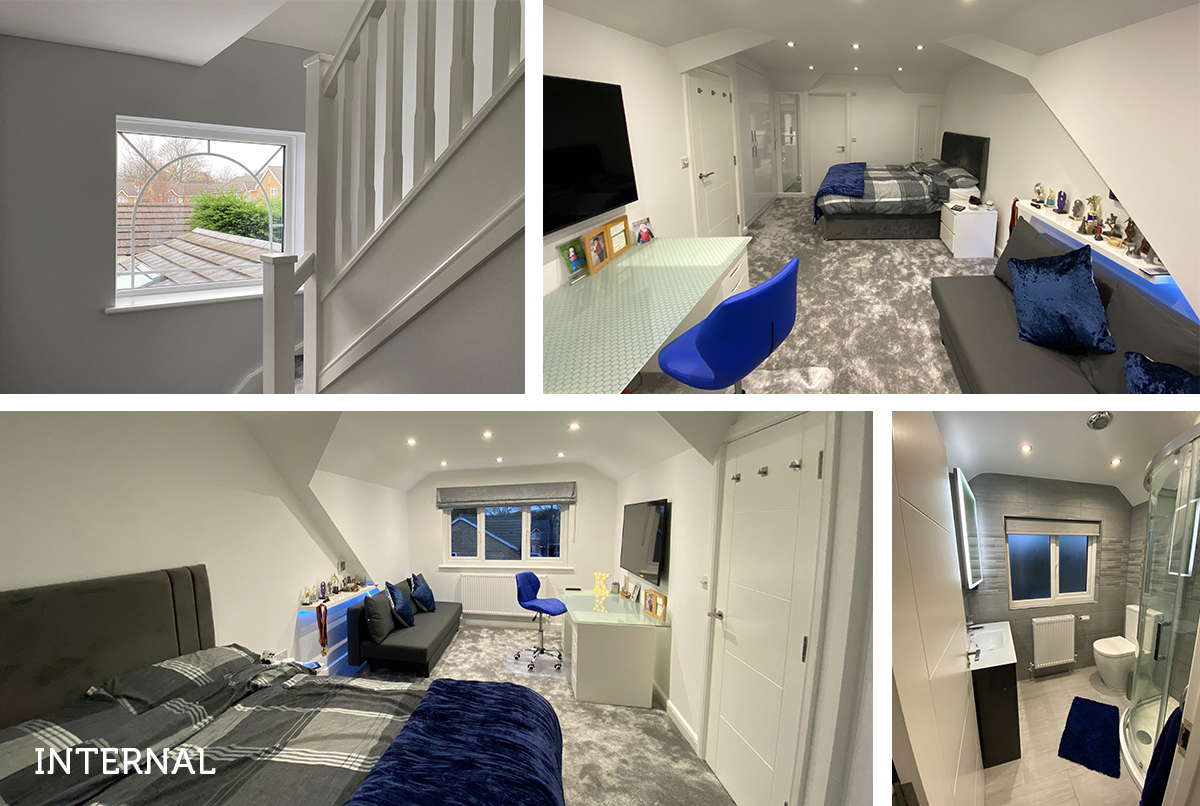 Q5 – Did you find the service good from the Moduloft team – any key points you would like to share about the stages and process.
The service offered by Moduloft was excellent. There was no pushy sales tactics and the team were transparent about what was involved throughout. The stages were clearly articulated, I knew exactly what to expect and there were no hidden surprises. Projects like ours is what Moduloft do day in day out, so the team were also able to bring their experience to the project to optimise things as we went along which was great.
Q6 – Delivery and lift day, how did this go and were you amazed at how it is done and fulfilled by the team? Were the neighbours intrigued?
Lift day was wondrous! We were pretty nervous and this was the key moment, but the team once again demonstrated their skill in positioning the 3 modules perfectly between the two existing stone gable walls. The fact that an entire new storey was added to the house and it was fully watertight within 24 hours still amazes me and all our neighbours who had gathered to watch the show!
Moduloft also thought about the little things like suggesting we speak to the neighbours to let them though about the plan and the minor disruptions lift day would bring along with a templated letter to distribute in case they weren't in – a really nice touch and again speaks to the experience the company has in doing this sort of thing day in day out.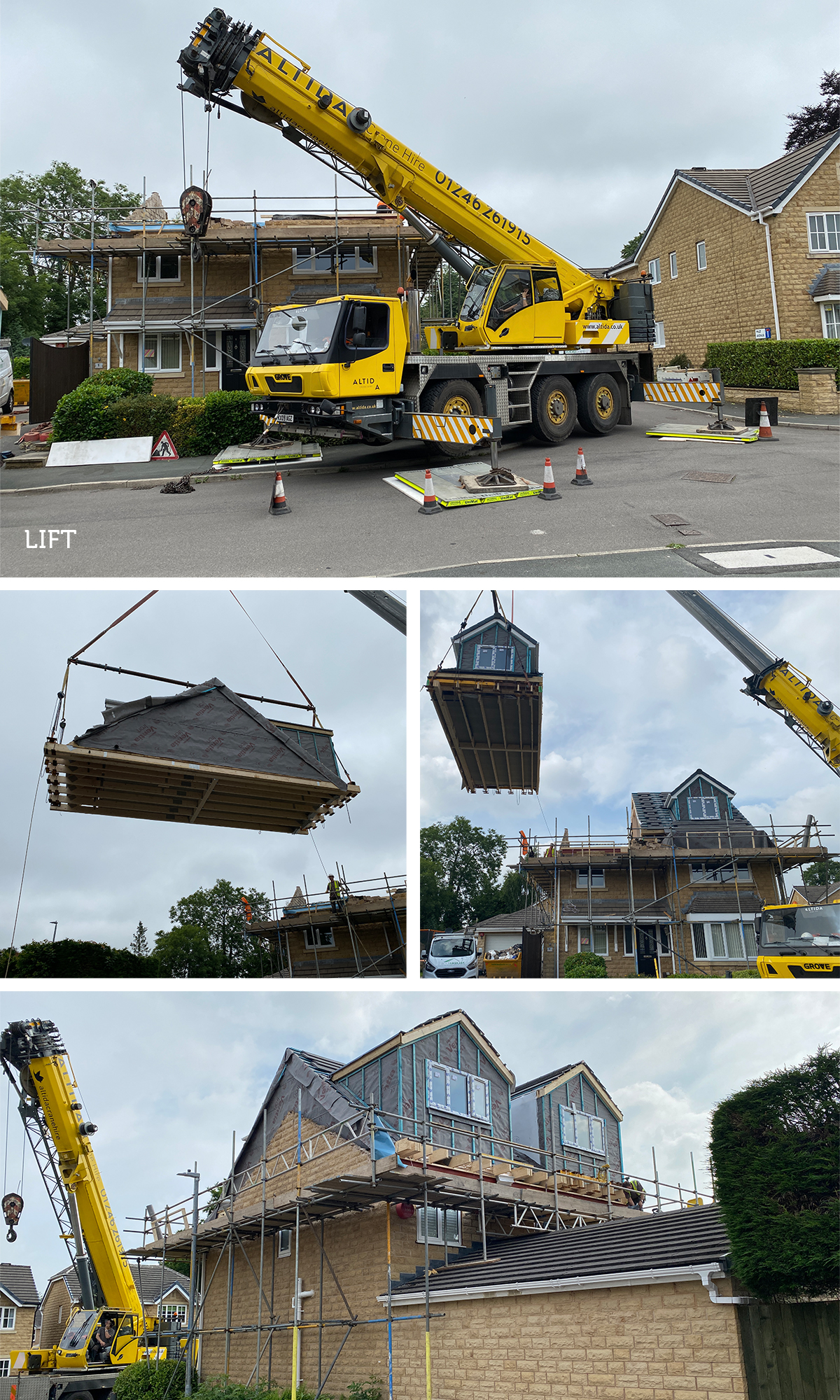 Q7 – How is your new space now it is all completed, what is the best part for you?
The new space is fantastic, the best part is the entire family now have spacious bedrooms with room still to grow – although the family are making an excellent effort in filling the space fast!
Normally if a build has gone well, folks talk about a build being "better than they'd imagined", the fact that everything was built offsite meant we knew exactly what to expect. We knew how wonderful the space would be, although secretly it is still "better than we'd imagined".
Q8 – Are you delighted to have stayed in your home and extended upwards, rather than moving to a new house?
Moving house was an option we considered; however other than the bedrooms and bathrooms the rest of the home was perfect for us. The option to extend without months of inconvenience, at a fixed price, while still living in the space, without damaging existing ceilings to get exactly what we needed and wanted made the decision pretty easy in the end.
Q9 – From start to finish how long did it take for you to get your new space?
From arriving on site to completion it took 3 weeks.
Q10 – would you recommend Moduloft.
For sure I would highly recommend Moduloft. They know what they are doing, their craftsmanship is excellent and the end product is outstanding. For me it's the future of commercial and non-commercial building.
See more about what our customer said about this project…
Interested in a Loft Conversion for your property? Get a free easy quote here: