Hawthorn Cottage
This traditional dormer bungalow with stunning views in an idyllic location in Yorkshire was the perfect house to purchase, and with a vision to renovate and transform it into a spacious modernised family home.  The vision for this project was to add 5 rooms and 2 bathrooms and complete their dream rural family home.  The project needed a roof lift to create a 2 storey conversion.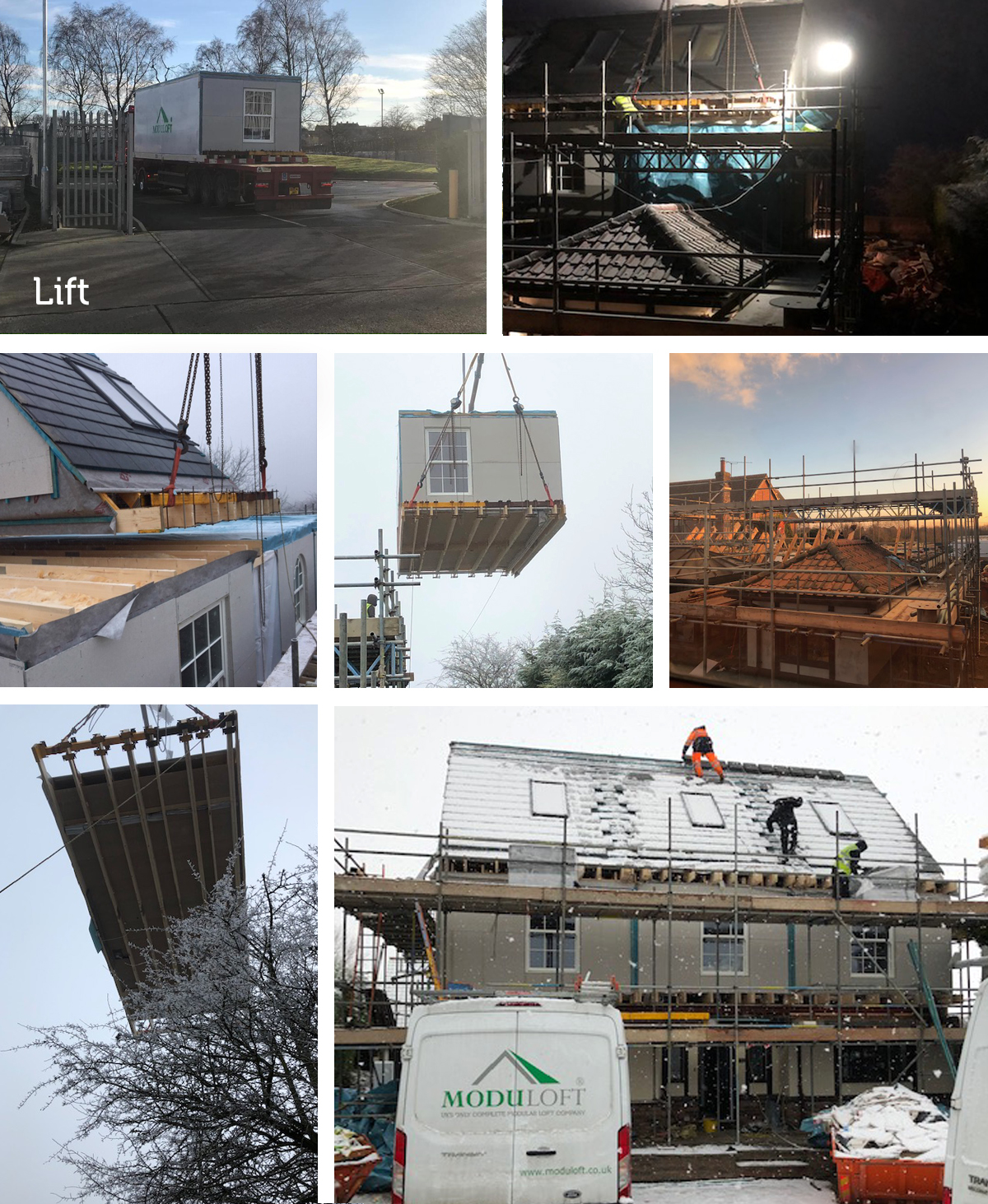 The owners worked with an architect to develop plans and drawings for what they were looking to achieve as part of the renovation to replace the current roof and create a 2 storey extension to add the new space.  The footprint of this property was to change shape, with a design that would alter the format of both the interior and exterior look of this fabulous plot. Having seen several traditional builders it was clear that in order to complete this scale of renovation it would mean using several contractors at key stages, therefore hard to determine a fixed price for the entire project.  With a need to agree on a fixed budget for the entire project the customer remembered seeing Moduloft on Sarah Beeny 'Double your House for half the money' and got in touch to see if the offsite build in the factory would work.  Having sent over drawings/plans to quote, they were delighted that Moduloft could carry out the renovation to create bespoke 2 storey Moduloft with a comprehensive quote and contract to do the entire project.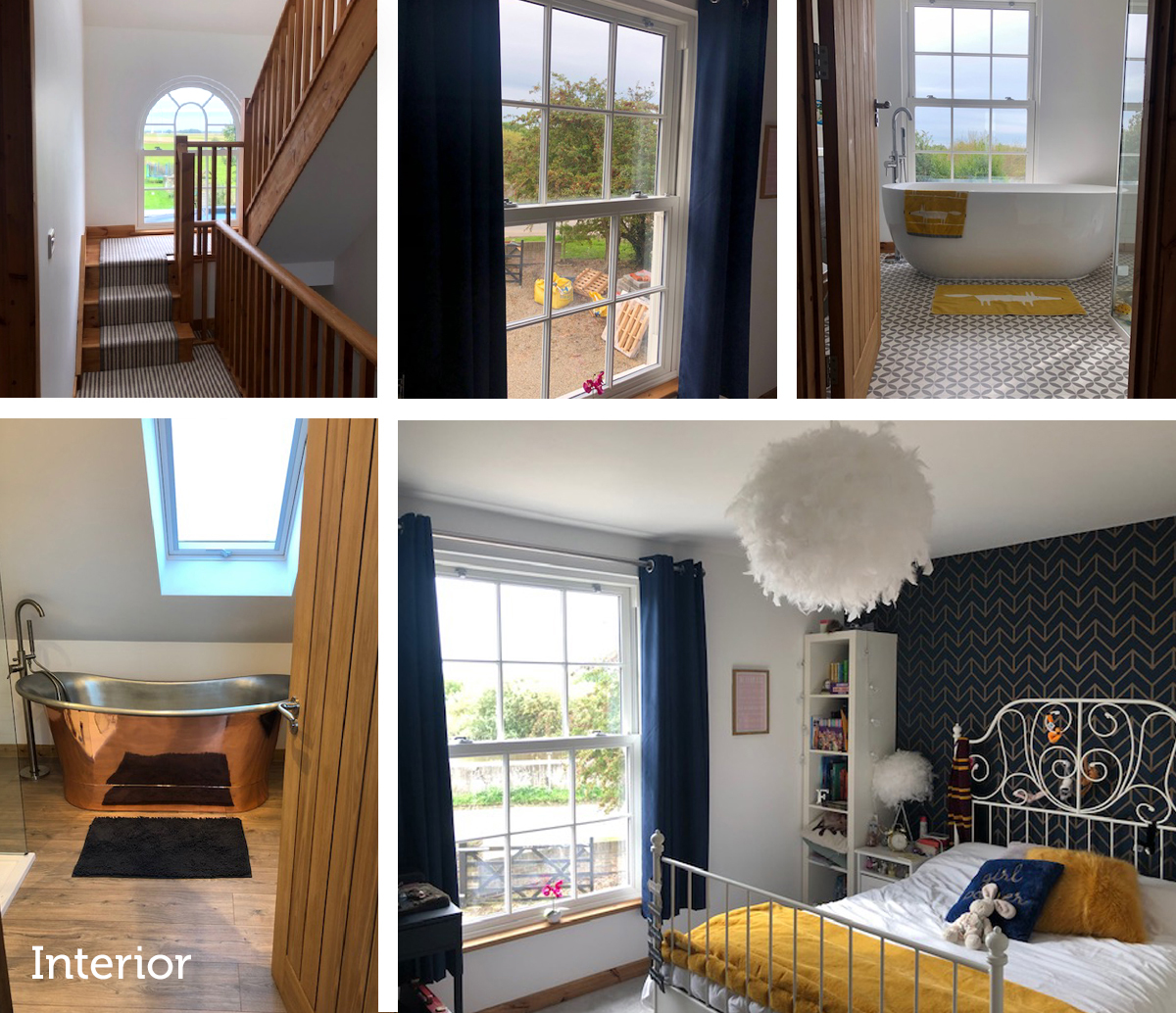 A fixed price from the outset was key for our customer and they could also select and change key fixtures/fittings to complete their new space. The windows were key to the overall design and with a nod to the properties age, they opted for stunning Georgian sash windows to transform the property and drive daylight and character throughout.  Velux roof windows with flashing in key places were designed to brighten up the home and deliver a sense of space.  The new space was to include 2 fully fitted bathrooms that would be completed within the factory so all installed when lifted into space.
Another benefit our customers were local to the factory, so regularly visited to see the Moduloft team and see the progress on their build.  The design and structure of the staircase was also built by Moduloft.  It was designed to work around and focus on a featured arch window to be seen from every step and built to funnel daylight and dramatize the overall design of the space and character to embrace the surrounding views.
The project also benefited from quick turnaround when Moduloft quoted there was space in the factory to start immediately. Build commenced in October 2018 and Moduloft delivered and lifted the new space in February 2019.  Whatever the weather the team will continue with lift and install, this project hit the artic temperatures in February 2019, lift day was -3 and foggy but all modules were safely lifted into place by our professional and focused team.

Our customer's feedback:
We cannot stress the benefits and total satisfaction with the Moduloft solution.  From start to finish their expert team were on hand every step of the way to deliver our bespoke project.  The fixed price was key for us when planning who to work with for our 2 storey renovation, Moduloft operate a process to quote and budget for your project with every last detail considered – it was refreshing to find this in our search. Lift day was amazing for our family to see our property change in days and then to see the transformation from our old home to our newly designed and renovated space.  The house is everything we set our hearts on and Moduloft was amazing in its service and completion. The project was so much quicker than we had originally planned and we would absolutely recommend offsite build by Moduloft.