We had a very successful show this year at Grand Designs Live, a show that really brings together a collective of brands that are all there to help property owners decide on how to take forward their renovation ideas.
Where better to find inspiration then, than at Grand Designs? The TV show has had such a huge following making reputation and innovation for property owners the key to this shows success.
For us it's a huge commitment, a 9 day show in central London where we need a committed and passionate team to be ready to meet and wow visitors to consider our solutions. Our stand needed to reflect our unique method of factory build, delivery, lift and install at the property.
We officially launched Moduroom to this show, and it was very well received, our innovation and speed of delivery and install for single and two storey extensions delivers an exciting option for homeowners today.
Seeing the public and chatting is the best form of direction and feedback we can get, it keeps us fresh and hopefully on the ball. Standing out is key for us and with such a unique way of doing loft conversions and now property extensions it is still a constant challenge for us to keep the brand strong and reach as many homeowners as we can to sell the Moduloft solution.
So with this in mind we love any feedback we can get from our potential customers and during Grand Designs Live in London we picked up a new buzz word……so many visitors to our stand were saying 'Oh you're the company that plonk a new loft on a building'. We are just loving the idea that our term of lift is now defined'plonk'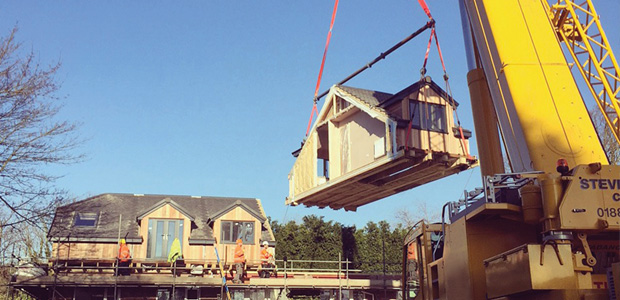 .
So, thanks to all for this insight – it just goes to show that simple terms and definitions can often lead the way and spread the word quicker.
Thanks to all the people that visited us during the show and for sharing the new buzz word that defines our unique way to deliver & plonk on your new space!