What Giles Greenhalgh, Partner at Bickerdike Allen Partners says about the project.
Bickerdike Allen Partners LLP have a long working relationship with St Albans High School for Girls, having delivered some significant projects for the school over the last few years.  In 2017, as part of our Estates Development Review for the School, we identified a number of locations for additional classroom space that could be created within their current site.
The development of Michael House was approved by the School at the end of 2017, and following the detailed design and successful planning application by BAP, the aim was to be on site and classrooms ready for the start of the Autumn term in 2018.
As with any development on a School site, a key requirement for the proposed works was that as much as possible should be undertaken within the School holidays.  A further constraint that Michael House presented was its location within the heart of the school campus surrounded by other buildings and with limited access to the surrounding roads.
With these constraints in mind, we had very early in our design process identified this as project that would be very much suited to an offsite construction system.  Having worked with Moduloft on other projects with similar site and access constraints we were very confident that this was a project they could deliver.
The main benefit of working with Moduloft and their construction system, was that we were not constrained in our design proposals for the School.  There is no real limiting "module" that Moduloft impose, as such the classroom sizes, layouts; window positions and cladding could all be determined by the requirements of the School and BAP.
A small enabling works contract was let in the Easter half term, and then within the school term time the classrooms were constructed by Moduloft in their factory in Brompton on Swale, Yorkshire.  We carried out two visits to factory as the works progressed and Moduloft also made available weekly progress photos.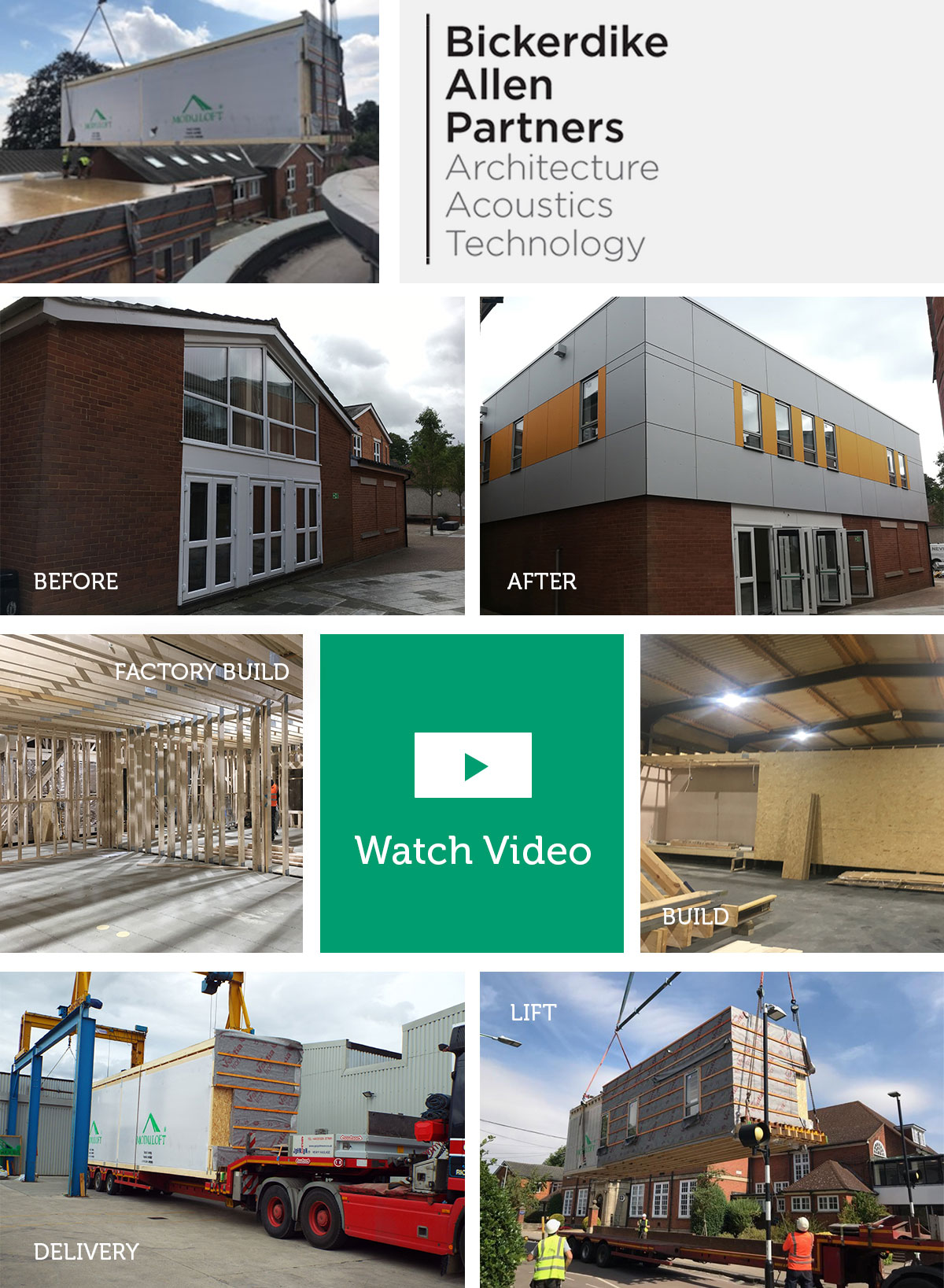 The other advantage of the Moduloft construction methodology is that they were able to incorporate late changes to the classrooms even as the factory construction progressed as one of the classrooms was updated to a IT suite requiring additional floor boxes and strengthening of walls to accommodate the latest Smart Board.
The delivery of the units was a major event, with classrooms being delivered and craned from the back of a large transporter; but this was all managed by Moduloft such that little or no disruption was caused to the surrounding residents or School.
The classroom installation was completed and commissioned prior to the start of the Autumn term, and both BAP and the School are very pleased.
We're looking forward to the next project and opportunity to work with Moduloft and their team.
Giles Greenhalgh – Partner at Bickerdike Allen Partners LLP