Don't Move Improve
CONVERT….find the extra space you need
The loft conversion market is one that has many advantages to homeowners wanting to extend, Moduloft is a unique company that offers you offsite build for a premium bespoke solution to meet your specifications.  We have been doing Trussloft conversions for over 20 years which offer traditional loft conversions in the property, and so have two key solutions to customers considering a loft conversion to provide more space.

When should homeowners consider a loft conversion?
Loft Conversions are the ideal solution to create much more space in the property, for some growing families this the perfect solution to stay in the property you love and solve your space issues.
Bungalow properties are often purchased with a view to increase room space in the roof and are a perfect platform for a Moduloft conversion.
Property structure and height can often be key to a loft conversion, and often a roof lift and modular solution is the only option.  Unique in its approach, Moduloft offer the offsite factory build modular solution that is bespoke to each customer and means you don't have to move out of your house at all, even while we lift and install.  So, you don't have the upheaval or additional costs to move out.
What are the minimum requirements for a loft conversion?
Moduloft allows you to convert anything with constraints of planning.  This approach means we are onsite for 2-3 weeks to install.
To do a traditional conversion like Trussloft you need 2.4metres height from roof apex to the ceiling of floor below.   This approach means we are 8-12 weeks on site.  We provide this option in some areas.
What are loft conversions usually used for?
So many reasons which is why the space you create in your loft is completely bespoke and personalised to your home and its requirements.  Often it's about extending bedroom space, especially if you have children that shared a room and as they grow older they want their own space.  Create an additional bathroom for the property.
Another perfect space in the loft could be a family room or play space for the children, so a large open space with TV, games consoles and generally a space to relax with friends and family.  Create your dream view from your loft space, such a perfect space to embrace the new skyline that the new conversion brings you.  You may even create a master bedroom in your new loft space with an ensuite.
Depending on your property and its location, you may switch the loft to have your open kitchen diner…the choices and ways to use your new space are endless and above all completely tailored to each individual.
It is key that when we are looking at design we fully understand what the space is going to be used for as this then carries through into your bespoke design and room structure, plus all fixtures and fittings are selected to help you create your dream space.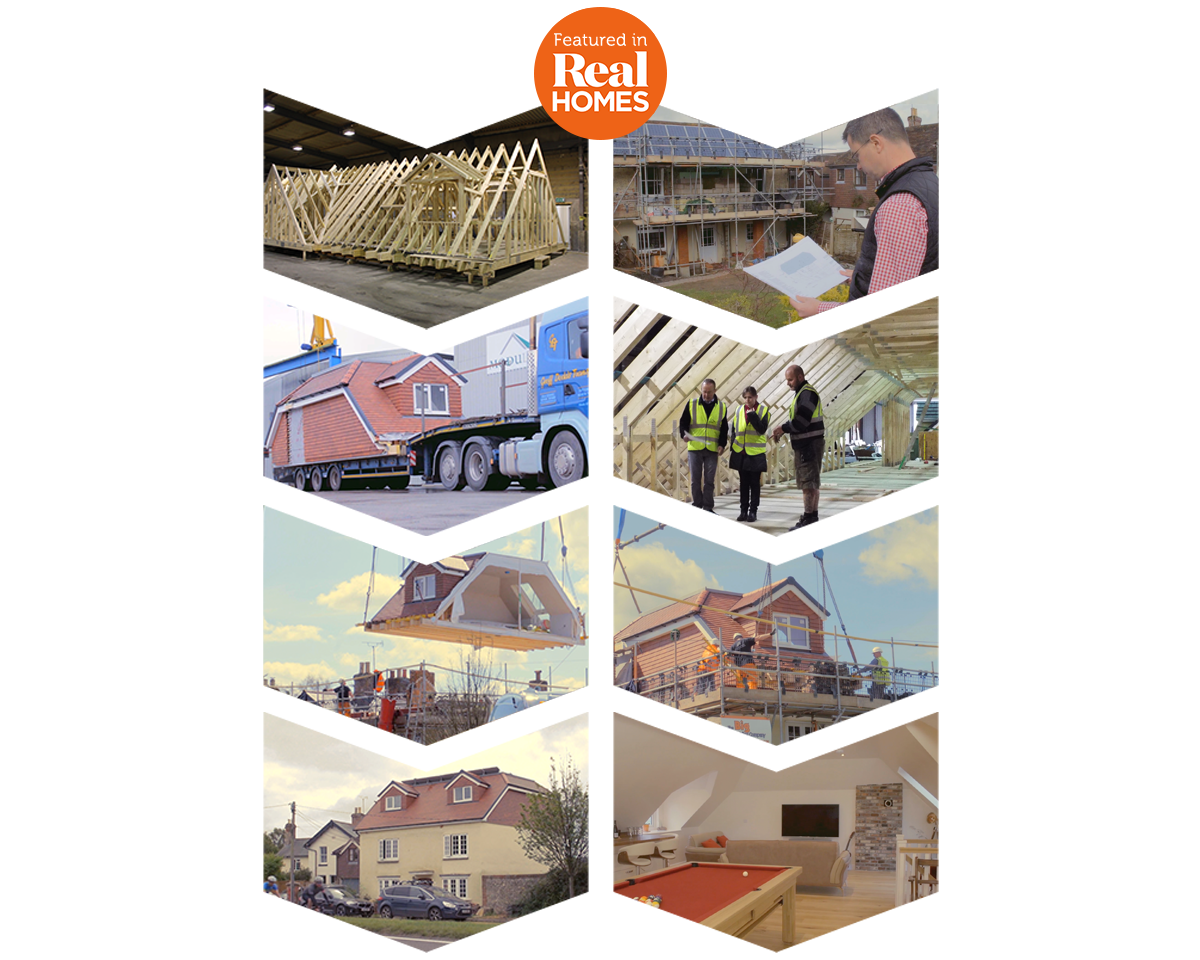 Is planning permission needed?
If you raise the height of an existing roof you will need to gain planning permission.
Traditional roof conversions can often be done under permitted development. However, we can carry out all the required applications and submissions for you and we will be able to advise you on your individual project.
It is often easier to get planning on roof extensions than other ground level or side level, as deemed more sympathetic to the existing property.
What about building regulations?
With any loft conversion there are building regulations to adhere to.  Moduloft and Trussloft use a Build System we appoint a 3rd party building inspector to comply with all regulatory requirements.
How much do loft conversions cost?
Moduloft, are not a traditional loft conversion solution, but they are an exciting and convenient alternative that many homeowners are now selecting as the build of your loft space is done in the factory, so that means less hassle and upheaval in the property.  Often conversions in the property can take over your world, so Moduloft offers you offsite build so that overall project time and delivery to install is so much faster.  We provide bespoke factory build, delivery and removal of your current roof to then crane and lift your new Moduloft into place is priced based on your property and specification as each project is bespoke. To get a price estimate for Moduloft on your property please complete our online quote..
Trussloft, is a conventional loft conversion in the property are priced from £42,500 (incl VAT) for 2 bedrooms and 1 bathroom and includes fixtures and fittings and install.
Our approach from the outset is to help you create your new space to your specification and with over 20 years in building loft conversions we can also provide useful advice and tips along the way.
Why are more people than ever choosing to improve, rather than move?
We find that many customers love their current property but simply need extra space and so staying put and doing a loft conversion is a great option.  Plus the majority of conversions in the home will add value to your property.
If you consider moving to get more space then often that can feel like a compromise as you love your current location, address and house but crave a bit more space for the family.
The satisfaction you get from improving your home and personalising to your specification can truly be very rewarding and you then feel content as you have created your dream home for the future.
Plus moving home is an upheaval and cost associated can escalate and so if you you're your location and want more space and to add value to your property then a well-planned loft conversion can tick all the boxes for you.
Why does it make sense to improve rather than move?
But in essence it makes sense to improve rather than move as you don't have the cost of moving or the upheaval, if you have a great property and perfect location for you and your family then it makes sense to explore all avenue that will allow you to create the space you need and stay put.  The costs of moving are escalating and with that comes the time factor to find the right property, not be gazumped in the property chain, so staying put and converting has so many advantages and will add value to your house. Not an exact science but if you can add 20% to the value of your house with a loft conversion then you are creating the space and not having to factor in moving costs as well as other fees.